Top Ten Psychedelic Drugs That Will Totally Blow Your Mind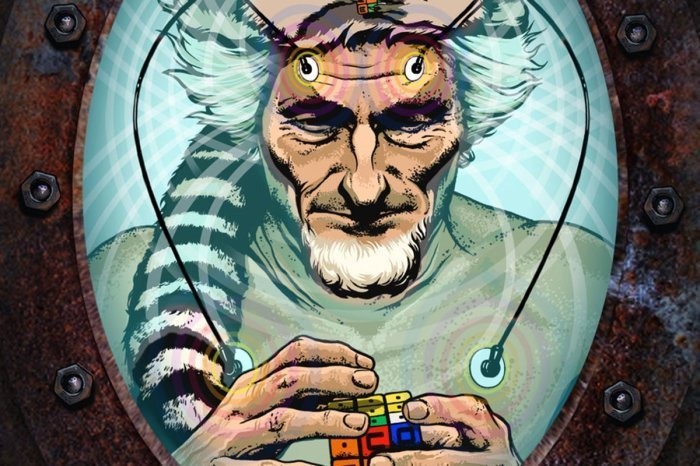 #1 DMT
N,N-Dimethyltryptamine (DMT) is a naturally occurring psychedelic compound of the tryptamine family. DMT is found in several plants, and also in trace amounts in humans and other mammals, where it is originally derived from the essential amino acid tryptophan, and ultimately produced by the enzyme INMT during normal metabolism. The natural function of its widespread presence remains undetermined. Structurally, DMT is analogous to the neurotransmitter serotonin (5-HT), the hormone melatonin, and other psychedelic tryptamines, such as 5-MeO-DMT, bufotenin, and psilocin (the active metabolite of psilocybin).
In some cultures DMT is ingested as a psychedelic drug (in either extracted or synthesized forms). When DMT is inhaled or consumed, depending on the dose, its subjective effects can range from short-lived milder psychedelic states to powerful immersive experiences, which include a total loss of connection to conventional reality, which may be so extreme that it becomes ineffable. DMT is also the primary psychoactive in ayahuasca, an Amazonian Amerindian brew employed for divinatory and healing purposes. Pharmacologically, ayahuasca combines DMT with an MAOI, an enzyme inhibitor that allows DMT to be orally active.
#2 Ayahuasca
Ayahuasca is any of various psychoactive infusions or decoctions prepared from the Banisteriopsis spp. vine, usually mixed with the leaves of dimethyltryptamine-containing species of shrubs from the Psychotria genus. The brew, first described academically in the early 1950's by Harvard ethnobotanist Richard Evans Schultes, who found it employed for divinatory and healing purposes by the native peoples of the Amazonian Colombia, is known by a number of different names.
A notable property of ayahuasca is that neither of the ingredients causes any significant psychedelic effects when imbibed alone; they must be consumed together in order to have the desired effect. How indigenous peoples discovered the psychedelic properties of the ayahuasca brew remains unknown.
#3 Peyote (Mescaline)
Lophophora williamsii, better known by its common name Peyote (from the Nahuatl word peyotl), is a small, spineless cactus with psychoactive alkaloids, particularly mescaline. It is native to southwestern Texas and Mexico. It is found primarily in the Chihuahuan desert and in the states of Tamaulipas and San Luis Potosi among scrub, especially where there is limestone. Known for its psychoactive properties when ingested, it is used worldwide as an entheogen and supplement to various transcendence practices including meditation, psychonautics and psychedelic psychotherapy. Peyote has a long history of ritualistic and medicinal use by indigenous Americans.
It was in 1886 that the German pharmacologist, Louis Lewin, published the first systematic study of the cactus, to which his own name was subsequently given. Anhalonium lewinii was new to science, however, to the Indians of Mexico and the American Southwest it was a friend of immemorially long standing. Indeed, it was much more than a friend. In the words of one of the early Spanish visitors to the New World, "they eat a root which they call peyote, and which they venerate as though it were a deity."
#4 Magic Mushrooms (Psilocybin)
Psilocybin mushrooms (magic mushrooms, teónanácatl, teotlaquilnanácatl, xochinanácatl) are fungi that contain the psychoactive compounds psilocybin and psilocin. There are multiple colloquial terms for psilocybin mushrooms, the most common being shrooms or magic mushrooms. Biological genera containing psilocybin mushrooms include Agrocybe, Conocybe, Copelandia, Galerina, Gerronema, Gymnopilus, Hypholoma, Inocybe, Mycena, Panaeolus, Pluteus, Psilocybe and Weraroa. There are approximately 190 species of psilocybin mushrooms and most of them fall in the genus Psilocybe.
#5 Fly Agaric Mushrooms (Amanita Muscaria)
Amanita muscaria, commonly known as the fly agaric or fly amanita, is a poisonous and psychoactive basidiomycete fungus, one of many in the genus Amanita. Native throughout the temperate and boreal regions of the Northern Hemisphere, Amanita muscaria has been unintentionally introduced to many countries in the southern hemisphere, generally as a symbiont with pine plantations, and is now a true cosmopolitan species. It associates with various deciduous and coniferous trees.
The quintessential toadstool, it is a large white-gilled, white-spotted, usually deep red mushroom, one of the most recognizable and widely encountered in popular culture. Several subspecies, with differing cap color, have been recognized to date, including the brown regalis (considered a separate species), the yellow-orange flavivolvata, guessowii, and formosa, and the pinkish persicina. Genetic studies published in 2006 and 2008 show several sharply delineated clades which may represent separate species. Although it is generally considered poisonous, deaths from its consumption are extremely rare, and it is eaten as a food in parts of Europe, Asia and North America after parboiling. Amanita muscaria is now primarily famed for its hallucinogenic properties, with its main psychoactive constituent being the compound muscimol.
It was used as an intoxicant and entheogen by the peoples of Siberia and has a religious significance in these cultures. There has been much speculation on traditional use of this mushroom as an intoxicant in places other than Siberia; however, such traditions are far less well documented. The American banker and amateur ethnomycologist R. Gordon Wasson proposed that the fly agaric was in fact the soma of the ancient Rig Veda texts of India; since its introduction in 1968 this theory has gained both followers and detractors in anthropological literature. On October 18th 2011 Author Shamans Odin Hawk and Venus presented historic Vedic evidence before the MSSF (Mycological Society of San Francisco), identifying Amanita as ancient Soma.
#6 Soma
Soma (Sanskrit सोम sóma), or Haoma (Avestan), from Proto-Indo-Iranian *sauma-, was a ritual drink of importance among the early Indo-Iranians, and the subsequent Vedic and greater Persian cultures. It is frequently mentioned in the Rigveda, whose Soma Mandala contains 114 hymns, many praising its energizing qualities. In the Avesta, Haoma has the entire Yašt 20 and Yasna 9-11 dedicated to it.
The Rigveda calls the plant the "God for Gods" seemingly giving him precedence above Indra and the other Gods (RV 9.42) It is described as prepared by extracting juice from the stalks of a certain plant. In both Vedic and Zoroastrian tradition, the name of the drink and the plant are the same, and the three forming a religious or mythological unity. There has been much speculation concerning what is most likely to have been the identity of the original plant. There is no solid consensus on the question, although most Western experts outside the Vedic and Avestan religious traditions now seem to favor a species of Ephedra, perhaps Ephedra sinica.
#7 LSD
Lysergic acid diethylamide, abbreviated LSD or LSD-25, also known as lysergide and colloquially as acid, is a semisynthetic psychedelic drug of the ergoline family, well known for its psychological effects which can include altered thinking processes, closed and open eye visuals, synaesthesia, an altered sense of time and spiritual experiences, as well as for its key role in 1960's counterculture. It is used mainly as an entheogen, recreational drug, and as an agent in psychedelic therapy. LSD is non-addictive, is not known to cause brain damage and has extremely low toxicity relative to dose, although adverse psychiatric reactions such as anxiety or delusions are possible even at low doses. LSD was first synthesized by Albert Hofmann in 1938 from ergotamine, a chemical derived by Arthur Stoll from ergot, a grain fungus that typically grows on rye.
The short form "LSD" comes from its early code name LSD-25, which is an abbreviation for the German "Lysergsäure-diethylamid" followed by a sequential number. LSD is sensitive to oxygen, ultraviolet light, and chlorine, especially in solution, though its potency may last for years if it is stored away from light and moisture at low temperature. In pure form, it is a colorless, odourless and mildly bitter solid. LSD is typically delivered orally, usually on a substrate such as absorbent blotter paper, a sugar cube, or gelatin. LSD is very potent, with 20–30 µg (micrograms) being the threshold dose. Introduced by Sandoz Laboratories, with trade-name Delysid, as a drug with various psychiatric uses in 1947, LSD quickly became a therapeutic agent that appeared to show great promise.
In the 1950's the CIA thought it might be applicable to mind control and chemical warfare; the agency's MKULTRA research program propagated the drug among young servicemen and students. The subsequent recreational use of the drug by youth culture in the Western world during the 1960's led to a political firestorm that resulted in its prohibition. Currently, a number of organizations, including the Beckley Foundation, MAPS, Heffter Research Institute and the Albert Hofmann Foundation, exist to fund, encourage and coordinate research into the medicinal and spiritual uses of LSD and related psychedelics.
#8 Cannabis
Though not an overly visual hallucinogenic, someone once put it best that Cannabis is more of an interior hallucinogenic, allowing one to tap deeply into one's own consciousness. Cannabis is a genus of flowering plants that includes three putative species, Cannabis sativa, Cannabis indica, and Cannabis ruderalis. These three taxa are indigenous to Central Asia, and South Asia. Cannabis has long been used for fiber (hemp), for seed and seed oils, for medicinal purposes, and as a recreational drug.
Industrial hemp products are made from Cannabis plants selected to produce an abundance of fibre. To satisfy the UN Narcotics Convention, some hemp strains have been developed which contain minimal levels of THC (Δ9- tetrahydrocannabinol), one of the psychoactive molecules that produces the "high" associated with marijuana. The psychoactive product consists of dried flowers of plants selectively bred to produce high levels of THC and other psychoactive chemicals. Various extracts including hashish and hash oil are also produced from the plant.
#9 Horn Apple/Jimson Weed/Datura (contains tropane alkaloids)
Datura is a genus of nine species of vespertine flowering plants belonging to the family Solanaceae. They are known as angel's trumpets, sometimes sharing that name with the closely related genus Brugmansia, and commonly as daturas. They are also sometimes called moonflowers, one of several plant species to be so. Its precise and natural distribution is uncertain, owing to its extensive cultivation and naturalization throughout the temperate and tropical regions of the globe.
Its distribution within the Americas, however, is most likely restricted to the US and Mexico, where the highest species diversity occurs. All Datura plants contain tropane alkaloids such as scopolamine, hyoscyamine, and atropine, primarily in their seeds and flowers. Because of the presence of these substances, Datura has been used for centuries in some cultures as a poison and as a hallucinogen. Datura is a complex and powerful psychedelic and getting the dose right is critical as the wrong dose can have adverse health effects. Many report mystical experiences described in terms of a 'rebirth,' while others find Datura experiences overly powerful and frightening.
#10 Virola
Virola, also known as Epená, Patricá, or Cumala, is a genus of medium-sized trees native to the South American rainforest and closely related to other Myristicaceae, such as nutmeg. It has glossy, dark green leaves with clusters of tiny yellow flowers and emits a pungent odor. The dark-red resin of the tree bark contains several hallucinogenic alkaloids, most notably 5-MeO-DMT (Virola calophylla), 5-OH-DMT (bufotenine), and also N,N-DMT, perhaps the most powerful members of the dimethyltryptamine family; it also contains beta-carboline harmala alkaloids, MAOIs that greatly potentiate the effects of DMT.
The bark resin is prepared and dried by a variety of methods, often including the addition of ash or lime, presumably as basifying agents, and a powder made from the leaves of the small Justicia bush. Ingestion is similar to that of Yopo, consisting of assisted insufflation, with the snuff being blown through a long tube into the nostrils by an assistant. According to Schultes, the use of Virola in magico-religious rituals is restricted to tribes in the Western Amazon Basin and parts of the Orinoco Basin.
SPIRIT MOLECULE NEWSLETTER
STAY UP TO DATE WITH WHAT IS HAPPENING IN HYPERSPACE & RECEIVE
SPECIAL OFFERS BY EMAIL
Featured Products
Related Posts